About Me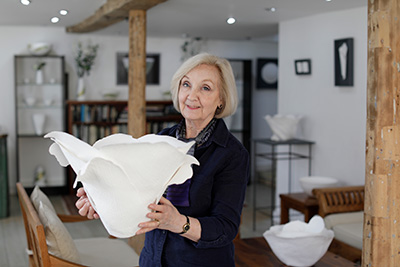 My love of ceramics began whilst teaching in the 70s and I furthered my studies in 1984 at the University of East Anglia under the direction of Peter Lane, ceramist and author, who introduced me to porcelain. Later, in 1991, I studied bone china slipcasting with Sasha Wardell and fell in love with this seductive medium. In 1995 I went to live in Perth, Western Australia and travelled many times to Indonesia.
In 1997 I was kindly Invited to do research by Les Blakebrough in Tasmania, where I developed a bone china paperclay. By exploring its whiteness and translucency I was able to articulate my fascination with the distinctive qualities of light found there, being so close to the Antarctic. This was followed by a move to Melbourne where I completed a Graduate Scholarship for MA Research at Monash University. These opportunities afforded me the chance to develop my work in bone china and I pioneered the use of bone china paperclay, resulting in Honourable Mentions in International competitions in Japan and Korea.
The bright sunlight in Western Australia, and its effect upon the landscape, made a great impact on me and influenced the development of my work. On returning to Perth, I set up my own studio. An Australian Crafts Council Grant enabled me to collaborate with a lighting designer for a year so as to research the translucency of bone china, which has become the driving force in my work today.
It had always been a dream of mine to run my own gallery and when after ten years I returned to England in 2006 things fell into place and I took over the gallery in Ely from Ronald Pile, previous owner of Primavera in Cambridge. Ronald has proved to be a great friend and guide over many years.
In 2009 I closed the gallery to concentrate on my own practice. This gave me the freedom to develop my work, through various series including 'Coastal Light', 'Spray' series and culminating in the new 'Sculptural Light' series.
These pieces were hand built using bone china paperclay. Observations of nature in its many forms have been inspirational to me. These included the study of exotic plants in Indonesia and marine life in Australia, and more recently coastlines around the UK.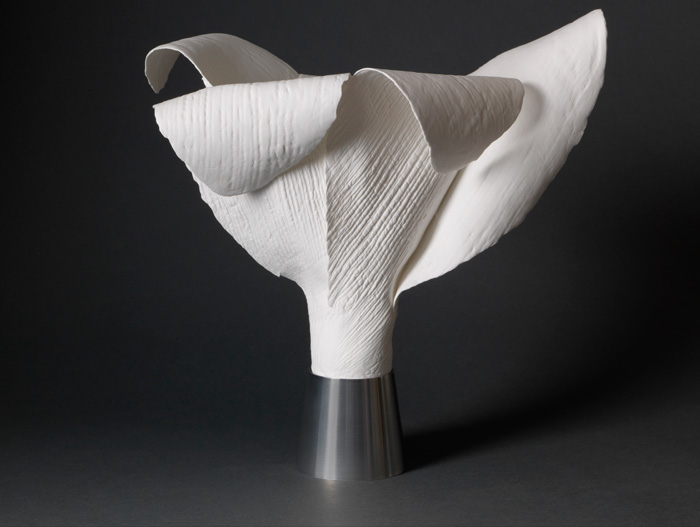 I was invited to be on the Advisory Team of 'Particle and Wave: Paperclay Illuminated' an International Paperclay Exhibition Project in the USA, which is touring museums and galleries worldwide. The tour started at the ASU Art Museum in Tempe, Arizona in 2019. This touring exhibition aimed to greatly increase the understanding and appreciation of paperclay work, and encourage more ceramicists to explore this exciting medium.
Subsequently, I was thrilled to learn that the Fuller Craft Museum in Brockton Massachusetts, USA, acquired my piece, 'Unfurled Light', from the 'Particle & Wave: PaperClay Illuminated.' exhibition in 2021. The Museum stated that the piece, "is the museum's first acquisition of paper clay–a material that artfully conflates tradition and ingenuity within the ceramic framework. With its beauty, translucency, and strength, "Unfurled Light" is a stellar example of this innovative medium." ;
You can view the work on the Fuller Craft Museum digital archive here and see it in person until spring 2023 as it is on show alongside the 19 others acquired by the Fuller Craft Museum since December 2020 in the Museum's 'Making History: Recent Acquisitions from the Permanent Collection' exhibition.
Angela Mellor 2023