"Shaping the Future with Earth:
World Ceramic Exposition Korea 2001," Angela Mellor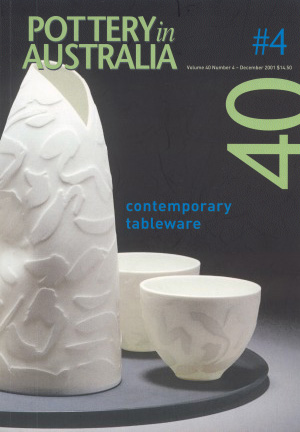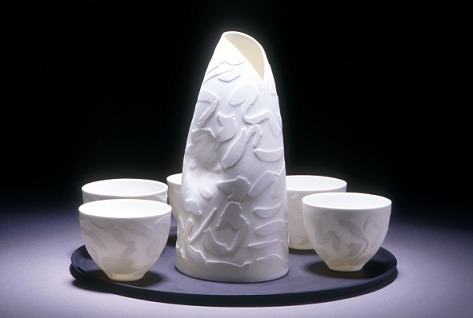 There were three main sites: Kwangju - Ichon - Yoju. Diverse exhibitions such as World Ceramic Heritages, World Contemporary Ceramics, International Ceramic Design, Korean Contemporary Ceramics and Hi-Tech Ceramics took place. The aim of the Exposition was to shed light on the past, present and future of ceramic culture. From Neolithic Age earthenwares to works by contemporary masters, including Northeast Asian Ceramic Interchanges between Korea, China and Japan, the originators of the World Ceramic History. It was stated: "Ceramics will come into being again, not only as functional, but also as artistic and industrial tools. It shows the versatility and infinite possibilities of ceramics and how we can build our future with earth. Ceramics is a magnificent achievement of our civilisation that enables us to construct the future".
My main reason for visiting Korea was to attend the 1st World Ceramic Biennale International Competition 2001. There were 6000 entries and approximately 300 selected worldwide, five being from Australia. I feel very honoured to have had two pieces of work selected, one from each category. The categories were: 1. Ceramics as Expression, 2. Ceramics for Use.
The second reason was to attend the various exhibitions from around the world. The IAC members exhibition coincided with their 39th selection meeting which took place over four days. I believe it was a very thorough and tough job selecting only 30 people out of 108. There was also an invitational exhibition of World ceramics from 38 masters, some of whom gave workshops. Potters from nine countries took part - USA, UK, France, Spain, Norway, Italy, Canada, Japan and Korea.
One of the main events was a three day Ceramic Symposium where distinguished ceramic experts examined the history and current state of ceramic art in its cultural and aesthetic contents and explored how the past and present will affect the future and further development of the earth's potential. Under the theme: "To Measure the Unmeasurable", the Symposium consists of three broad thematic categories: Aesthetic and Cultural Retrospective. the Passages of Art and Life, And Applications and Prospect.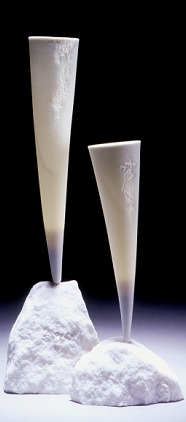 I went along with an organised Ceramic Study Tour led by Connie Driden, from Victoria. We visited Kyongbokkung Palace, the New National Museum and Haegang Museum, which gave an insight into Korean culture of bygone days. We also took part in a traditional Korean Tea ceremony. It was a delight to drink from a beautiful celadon tea bowl and share in the celebration of this ancient tradition. Studio potters, pottery villages and workshops were also visited where we observed demonstrations and videos of the potters at work. Their studios were very organised and the potters were very skilful in their techniques. We witnessed the unpacking of climbing kilns in the hillside, revealing some very creditable work.
The last three days of the tour were spent in North Korea, which for me was the most inspirational. We explored the unspoilt natural beauty of Mt Kumgang, also known as Diamond Mountain. A four kilometre walk up the steep mountain was taken in the pouring rain, seeing the tempestuous waterfalls, gigantic rocks and a wonderful array of Autumn leaves. It was well worth the climb.
The following day took us to a place where Mt Kumgang meets the sea and where many unusual rocks were seen, some displaying large calligraphic sculptures carved into them by a commissioned sculptor. This was called Lake Samilpo, the most beautiful tranquil lake and scenery that I have ever seen. It is one of the most unpolluted tourist attractions left on the planet.
I must say that I was very impressed with Korea. It is a very clean and orderly country. The new airport in Incheon is ultra modern and space age in its design. The eight lane highway eased the flow of traffic into the vibrant capital city, Seoul, with its towering modernistic architecture. The countryside is breathtakingly beautiful and the people are warm and friendly. A very worthwhile and inspirational trip.
< Back to Press articles | "Illuminated Ceramic Objects," Angela Mellor >